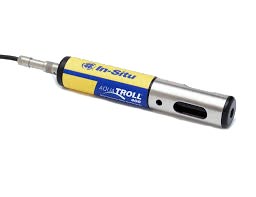 The Aqua TROLL 400 simplifies decision making with a fixed set of sensors that measure:
Actual and specific conductivity, salinity, total dissolved solids, resistivity and density
Dissolved oxygen (optical RDO®)
ORP
pH
Temperature
Water level and water pressure (absolute)
Rugged and compact, the Aqua TROLL 400 can be deployed for months of unattended operation in harsh field conditions. And because it's easy to install and maintain, you save on training and reduced trips to the field.
Open communication protocols easily interface with your existing telemetry system. Access data anytime with a radio, controller, data logger, sampler, telemetry system, SCADA/PLC system, or HydroVu Data Services.
JS Hire provide hire of Aqua TROLL 400 Data Loggers at the following rates:
Daily Rate €50
Weekly Rate €250
JS Hire offer an unrivalled selection of geotechnical, environmental, remediation and sampling instrumentation and equipment. For much of our range, we are the only source in Ireland, and in many cases, we were the first to bring the equipment into Ireland.
Not only do we have the best and most up-to-date equipment – we also make sure that everything is backed up by our superb service, prompt delivery and competitive rates. We are always investing in new, cutting-edge machinery.
---
Contact us about Aqua TROLL 400.