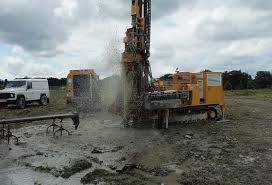 With wide experience of dealing with private and public supply water well rehabilitations,  our team offers a unique combination of expertise, know-how and specialist equipment, covering:
Assessment
Disinfection
Cleaning
Clearing
Re-lining
Repair
Restoration of old wells
Surveying.
As no two wells are the same, our skilled operatives and high-tech equipment  deliver customised solutions that match your individual needs. JS Rehabilitation works can:
Bring a well back into production
Extend the life of the well
Improve water quality
Increase yield.
JS Remediation have decades of experience in Well Rehabilitation having worked on Well Rehabilitation projects in Ireland, the UK and Africa. JS Remidiation has an extremely impressive client base, including multinationals, blue chips, leading building and mining companies, prominent engineering and environmental consultants, local authorities, utilities, semi-states and other government departments.
At JS Remediation, we pride ourselves on our problem-solving abilities. Our in-house design team develops focused remedial strategies which we can take through from conceptual design and regulator negotiation to full scale implementation, final validation, regulatory approval, and every stage in-between.
---
Contact us for all of your Well Rehabilitation requirements.