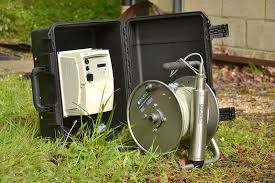 The MP1 is the perfect groundwater sampling or aquifer test pump, controlled by a Variable Frequency Drive (VFD) with precise and smooth control of water flow from 0.1 litres per minute to 34 litres per minute – high flow rates for purging, low flow rates for sampling. The MP1 fits wells of 50 mm (2″ diameter) and is capable of pumping to a depth of 90 metres. This pump can be damaged by (suspended) sediments or sand so is not ideal for well development in these conditions. The MP1 Pump requires 110V generator or mains supply.
JS Hire provide hire of MP1 Monitoring Borehole Pump & Controller:
Daily Rate €50
Weekly Rate €250
JS Hire offer an unrivalled selection of geotechnical, environmental, remediation and sampling instrumentation and equipment. For much of our range, we are the only source in Ireland, and in many cases, we were the first to bring the equipment into Ireland.
Not only do we have the best and most up-to-date equipment – we also make sure that everything is backed up by our superb service, prompt delivery and competitive rates. We are always investing in new, cutting-edge machinery.
---
Contact us about MP1 Monitoring Borehole Pump & Controller Hire.