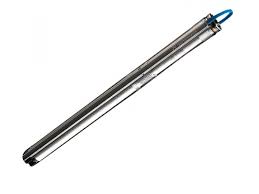 The Grundfos SQ7 is a multistage submersible pump used for pumping thin, clean, non-chemically aggressive water such as rain and ground water. For example in applications that include domestic water supply for houses and dwellings that are not connected to the municipal water supply, environmental applications such as remedial pumping or sampling and small water works and irrigation systems. The SQ7 submersible borehole pump is designed to handle liquids containing sand up to 50g/m³ but not fibres or solids and has a maximum head pressure of up to 55.3 metres. Wear resistant, lightweight, cost effective and efficient, the borehole water pumps come in either AISI 304 or AISI 316 stainless steel with a polyamide floating impeller.
JS Hire provide hire of the Grundfos SQ7:
Daily Rate €60
Weekly Rate €300
JS Hire offer an unrivalled selection of geotechnical, environmental, remediation and sampling instrumentation and equipment. For much of our range, we are the only source in Ireland, and in many cases, we were the first to bring the equipment into Ireland.
Not only do we have the best and most up-to-date equipment – we also make sure that everything is backed up by our superb service, prompt delivery and competitive rates. We are always investing in new, cutting-edge machinery.
---
Contact us about Grundfos SQ7 Hire.