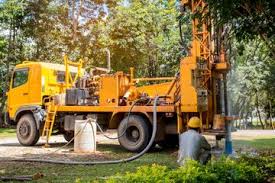 Well Drilling is an area of professional expertise for JS Drilling. We provide expert services in Well Drilling, pump installation, monitoring boreholes, locating water on sites, existing homes, farms, factories, etc…
The Advantages of drilling your own well
It's a natural source of water and you know where it is coming from
It is untreated by chemicals like chlorine, etc…
It requires very little maintenance
A private well is cost effective when compared to rates charged by public water schemes. A well has only the initial cost at the start of the project and is not subject to water rates.
There are local authority grants to houses over 7 years old
Farmers can claim back VAT for the drilling of a well
No planning permission is required for an existing dwelling to drill a well
JS Drilling have decades of experience in Water Well Drilling having worked on Water Well Drilling projects in Ireland, the UK and Africa. JS Drilling has an extremely impressive client base, including multinationals, blue chips, leading building and mining companies, prominent engineering and environmental consultants, local authorities, utilities, semi-states and other government departments.
At JS Drilling, we pride ourselves on our problem-solving abilities. Our in-house design team develops focused remedial strategies which we can take through from conceptual design and regulator negotiation to full scale implementation, final validation, regulatory approval, and every stage in-between.
---
Contact us for all your Water Well Drilling requirements.