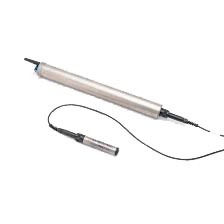 The Rugged TROLL 200 is designed for long- and short-term groundwater and surface water level monitoring. It is available in several pressure ranges up to 250 ft (76 m). This reliable water level logger featuring 3D factory calibration, enhanced reliability and our unique anti-drift system will operate for years maintenance free. Easily program and download data with the Rugged TROLL Docking Station or Wireless rugged TROLL Com (sold separately) and VuSitu app. Setup, view and download logs directly from your mobile device using a Wireless Rugged TROLL Com and the VuSitu app. Use the Rugged BaroTROLL Data Logger (sold separately) for barometric compensation when needed.
The Rugged TROLL 200 features titanium construction, is 2.62 cm (1.03 in) in diameter, and comes with 2 MB of memory, with 120,000 data sets and 360,000 data points. Choose the Rugged TROLL 200 Cable length and termination right for your project. And use a Cable Suspension Kit to anchor the cable in place.
JS Hire provide hire of Rugged TROLL 200 Data Loggers at the following rates:
Daily Rate €25
Weekly Rate €125
JS Hire offer an unrivalled selection of geotechnical, environmental, remediation and sampling instrumentation and equipment. For much of our range, we are the only source in Ireland, and in many cases, we were the first to bring the equipment into Ireland.
Not only do we have the best and most up-to-date equipment – we also make sure that everything is backed up by our superb service, prompt delivery and competitive rates. We are always investing in new, cutting-edge machinery.
---
Contact us about Rugged TROLL 200 Hire.