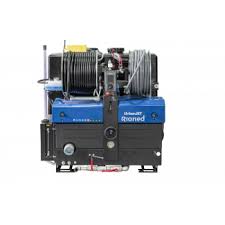 Water jetting will be carried out using a Rioned high pressure jetting rig. The rig is powered by a Hatz silenced diesel engine which can also be fitted with spark arrestors and Chelwyn valve if required.
Jetting relies on the erosional effect of thin but fast flowing water jets. High pressure jetting features a tool with an adjustable, multi head, water powered jetting nozzle.
The winch system for lowering the jetting tools is set up over the well.
The high powered jet is lowered into the well injecting potable water to dislodge the debris. The screen is cleaned section by section as the nozzle is lowered and repeated until the well is clear.
JS Hire provides Jetting Rig Hire at the following rates:
Daily Rate €50
Weekly Rate €250
JS Hire offer an unrivalled selection of geotechnical, environmental, remediation and sampling instrumentation and equipment. For much of our range, we are the only source in Ireland, and in many cases, we were the first to bring the equipment into Ireland.
Not only do we have the best and most up-to-date equipment – we also make sure that everything is backed up by our superb service, prompt delivery and competitive rates. We are always investing in new, cutting-edge machinery.
---
Contact us about Jetting Rig Hire.